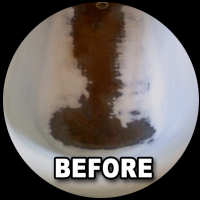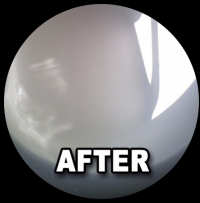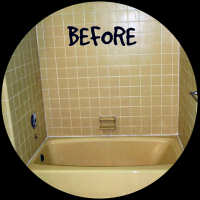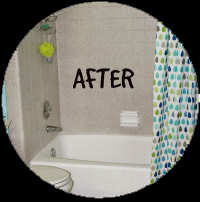 Rochester Bathtub Refinishing Clarified
If you're looking for a great way to improve your home's bathrooms but don't have a big budget, then bathtub refinishing is a great option. Many people ask what's the difference between tub refinishing, bathtub resurfacing and tub reglazing. There isn't, they all refer to the same process. Bathtub Makeover Wizards in Rochester are experts in bathtub refinishing and can give your bathroom a fresh new look even if you have a limited budget. In order to understand more about bathtub refinishing in Rochester and what it has to offer, the answers to some common questions shown below can help.
Bathtub Makeover Wizards in Rochester Explains Refinishing Process
It always pays to do your due diligence prior to embarking on a home improvement project such as tub refinishing in Rochester. The process of tub reglazing consists of applying a specialized coating to the top of a tub to cover up any blemishes that were previously present. While this sound simple, it does require a steady hand. Bathtub Makeover Wizards in Rochester has the knowledge of the application process to ensure the coating is seamlessly applied. We set up a system to ventilate the bathroom and either vent through a window or door closest to the bathroom. This is done with a ventilation system designed for bathtub resurfacing.
Techniques Used For Bathtub Refinishing in Rochester
The process begins with cleaning the tub with industrial cleaners. This will remove any soaps or impurities from the surface. Once this is done, 120-grit sandpaper must be applied to the surface to remove calcium deposits. After the tub is rinsed and dried, it should be washed with hydrofluoric acid and then rinsed with cold water. It will then need to undergo one last sanding with the 120-grit sandpaper. Yet again the bathtub needs to be rinsed and dried before filling in any blemishes with a body filler and then applying a coat of epoxy paint. The final step is to apply the glaze. In Rochester only manufacturer approved glaze is applied.
Trust a Rochester Contractor To Do Your Tub Reglazing
If you are good at DIY you can attempt to resurface your bathtub yourself. Unfortunately there's no guarantee you will have a good result. It isn't recommended if you are not used to doing this kind of project that requires specialized knowledge. Use a Rochester contractor if you want to avoid costly damages caused by doing your own bathtub resurfacing. Bathtub Makeover Wizards in New York have the experience and knowledge of the proper procedures to ensure your tub is glazed beautifully and turns out looking like new again.
Coating Materials Applied by Rochester Bathtub Makeover Wizards
Skimping on the quality of topcoat and primer coatings used in tub refinishing is a false economy. They can result in a tub that won't have a long life before they need replacing. For a great finish on your tub it is imperative that all the above coatings are high quality products. Using a contractor to do your bathtub refinishing in Rochester and be sure you get a job well done. Not all coatings will work as well, so if you are doing your own reglazing make sure you get the best you can afford.
Time Needed For Reglazing a Bathtub in Rochester
It would almost certainly take you a number of days to do your own bathtub refinishing. However, if you hire a professional from Rochester it should take hours at most for the tub reglazing to be completed. Tubs that are badly damaged may require special attention before any tub reglazing can be applied, considerably increasing the time required to finish the process. Unless there are any unexpected problems a typical bathtub refinished in New York should be able to be used 24 hours after drying.
Bathtub Refinishing in Rochester Lasts Longer
A number of factors can determine how long a refinished bathtub will last. For example the type of coatings used. This is a good reason to have your tub refinishing in Rochester done by qualified contractors from Bathtub Makeover Wizards. However, most companies will boast that bathtub resurfacing extends the life of a tub 7 to 10 years with proper maintenance. It's possible to reglaze a bathtub for a second time provided the tub has not been badly damaged.
Bathtub Resurfacing Color Options Bathtub Makeover Wizards Offer
White is still one of the most popular colors when reglazing a bathtub. After bathtub resurfacing many people go for a new color to give their bathroom a fresh new look. Your choice of color may be limited by the contractors like Bathtub Makeover Wizards who do the bathtub resurfacing. In most cases you should not have too much difficulty in finding a color that meets your needs.
Taking Care Once Bathtub Resurfacing Is Done
Proper maintenance is essential if you want to get the most life out of your newly refinished tub. A list of basic maintenance tasks can be obtained from Bathtub Makeover Wizards in New York. Always use a tub cleaner that is made specifically for that purpose for regular cleaning. Do not use any abrasive cleaning materials as they will harm the coatings recently applied to your tub. Damage can be caused by suction-cup bathmats, soap dishes or similar products used on the tub.
Rochester Bathtub Reglazing Advantages
* Increasing Value of Home - If you're thinking about selling in the near future, it's absolutely beneficial for those who might walk through when it's being shown by a Realtor. * Saving Money - The cost of reglazing a bathtub is far more affordable than the cost of replacing the tub completely. * Less Construction - When you replace a tub in your home, you have to do quite a bit of construction to remove it and then install the new one. Reglazing a bathtub is a much quicker and easier option. * Bathroom Makeover – Reglazing a bathtub leaves a shiny and beautiful surface coating that will contribute to a more updated look throughout your bathroom.
More Refinishing Services
Bathtub Makeover Wizards
Rochester
425 East Ridge Road, Rochester, NY 14621
Albany, Brentwood, Buffalo, Cheektowaga, Hempstead, Irondequoit, Levittown, Mount Vernon, New Rochelle, New York, Rochester, Schenectady, Syracuse, Tonawanda, Troy, Utica, White Plains, Yonkers
14621, 14609, 14620, 14611, 14607, 14613, 14619, 14605, 14608, 14606, 14615, 14612, 14610