Countertop Refinishing Explained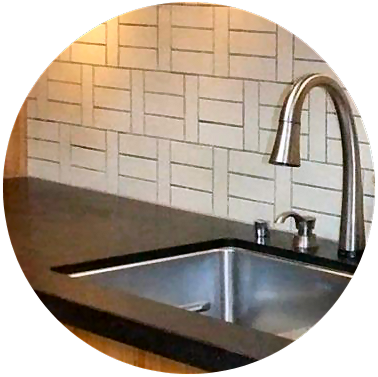 The countertops in your home, whether in the kitchen, bathrooms, or laundry room, can all impact the overall look of your interior. While this can be beneficial if your countertops look nice, if they have become dull or damaged, this can negatively impact your home's appearance. Fortunately if you're in a situation where you don't like your counters, you have the option of refinishing them to create a brand new look.
What is Countertop Refinishing?
Countertop refinishing repairs and restores your existing counters with a specialized coating that's applied to the surface. This eliminates the need of a replacement counter while making the surface look like one that is brand new. Refinishing also covers up cracks, chips, blemishes, and stains that are sometimes prevalent with older materials.
What are the Benefits?
- Affordable
Brand new countertops could easily cost you thousands of dollars, especially for a luxurious material. Refinishing will be a fraction of this expense and still produce results that are incredibly beautiful. You can even choose a finish that looks like an expensive material all without the high cost of investing in it.
- Variety of Choices
Refinishing doesn't limit you to one or two choices in terms of appearance. You can choose from finishes that look like marble, granite, or a variety of other materials.
- Less Construction
When you refinish your countertops, you avoid the time, energy, and construction that's required to replace them. If you don't want to take on a major home project, then this is an ideal option.
What are Installation Options?
If you decide to have refinishing done, then you have two options for the installation, which include:
- Self Application
Home improvement stores have a wide variety of DIY countertop refinishing kits available to choose from. These are affordable and come in a range of finishes and colors so you can choose which fits your tastes the best. However, the application process can be difficult and mistakes could put you at risk of damaging your counters.
- Professional Application
Many contractors have started to offer professional refinishing services to help save their clients money. While it might cost more to hire a professional, it's worth it if you want peace of mind knowing that the refinishing project will be done properly. An added benefit is that you'll be able to tell them the exact look that you want so they can create the perfect appearance. The investment in their service is ideal for anyone who wants to make the refinishing process as quick and seamless as possible.