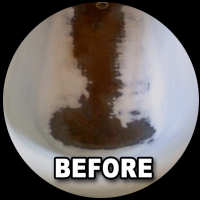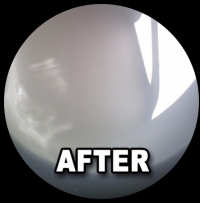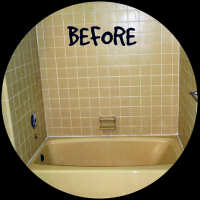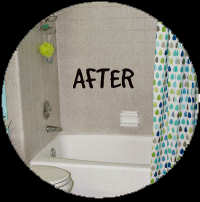 Information About Bathtub Refinishing In Gainesville
You may be surprised to know that bathtub refinishing can add years to the life of your tub and is very affordable. Many people ask what's the difference between tub refinishing, bathtub resurfacing and tub reglazing. There isn't, they all refer to the same process. Bathtub Makeover Wizards in Gainesville are experts in bathtub refinishing and can give your bathroom a fresh new look even if you have a limited budget. To inform you about all the important aspects of bathtub refinishing in Gainesville we have compiled a list of the most frequently asked questions below.
Refinishing Made Easy by Bathtub Makeover Wizards in Gainesville
To get started, it's important to genuinely understand what tub refinishing in Gainesville is all about. After the old soiled surface of the tub has been suitably prepared, it is ready for tub reglazing. This consists of applying a special coating to reglaze the bathtub. While this sound simple, it does require a steady hand. Bathtub Makeover Wizards in Gainesville has the knowledge of the application process to ensure the coating is seamlessly applied. We set up a system to ventilate the bathroom and either vent through a window or door closest to the bathroom. This is done with a ventilation system designed for bathtub resurfacing.
Techniques Used For Bathtub Refinishing in Gainesville
The process begins with cleaning the tub with industrial cleaners. This will remove any soaps or impurities from the surface. Once this is done, 120-grit sandpaper must be applied to the surface to remove calcium deposits. It is now necessary to rinse and dry the bathtub prior to cleaning with acid. Usually hydrofluoric is used for this purpose. After rinsing, again sand with 120-grit sandpaper. Yet again the bathtub needs to be rinsed and dried before filling in any blemishes with a body filler and then applying a coat of epoxy paint. The process is completed by applying the glaze. Not all glazes are suitable and in Gainesville only recommended glazes are used.
Gainesville Tub Reglazing Company Says DIY Not Recommended
Many homeowners have reglazed their tubs on their own. However, not all of them have been successful. It is a difficult project for those who don't have the right experience with home projects. Not every attempt to reglaze a tub yourself will be successful and a safer option would be to use a local Gainesville company. The safest option is to hire a reputable company like Bathtub Makeover Wizards in Georgia to take care of your bathtub refinishing needs.
Only Proven Materials Applied by Bathtub Makeover Wizards in Gainesville
Skimping on the quality of topcoat and primer coatings used in tub refinishing is a false economy. They can result in a tub that won't have a long life before they need replacing. Always use coatings that are manufacturer approved and guaranteed to provide a quality finish. Using a contractor to do your bathtub refinishing in Gainesville and be sure you get a job well done. Not all coatings will work as well, so if you are doing your own reglazing make sure you get the best you can afford.
Time Needed For Reglazing a Bathtub in Gainesville
It would almost certainly take you a number of days to do your own bathtub refinishing. Tub reglazing in Gainesville would usually take a reputable contractor one day or less if less preparation is needed., Tubs that are badly damaged may require special attention before any tub reglazing can be applied, considerably increasing the time required to finish the process. Unless there are any unexpected problems a typical bathtub refinished in Georgia should be able to be used 24 hours after drying.
Greater Tub Life With Gainesville Bathtub Refinishing
A number of factors can determine how long a refinished bathtub will last. For example the type of coatings used. Which is why it's generally beneficial to have professionals such as Bathtub Makeover Wizards to do your tub refinishing in Gainesville. However, most companies will boast that bathtub resurfacing extends the life of a tub 7 to 10 years with proper maintenance. It's possible to reglaze a bathtub for a second time provided the tub has not been badly damaged.
Bathtub Makeover Wizards Offer Resurfacing in Most Colors
After reglazing a bathtub most people prefer to have a plain white tub. Some opt for colors to better match the style of their bathroom when bathtub resurfacing is done The colors available depend on the contractor such as Bathtub Makeover Wizards doing the bathtub resurfacing or the kit that is purchased for DIY reglazing. Having said that, there are more than enough color options to satisfy most people's requirements.
Bathtub Resurfacing Maintenance Requirements
Proper maintenance is essential if you want to get the most life out of your newly refinished tub. A list of basic maintenance tasks can be obtained from Bathtub Makeover Wizards in Georgia. Regular weekly cleaning with an approved bathtub cleaner will keep it in good condition. It's important to avoid abrasive cleaners and sponges, as these can damage the delicate coating that makes the tub look new. In addition to this, it's recommended to avoid leaving soap on the surface of the tub to avoid damage to the coating.
Reasons For Bathtub Reglazing in Gainesville
* Home Improvement - A recently refinished bathtub not only adds value to your home, it also makes it a lot easier to sell if you looking to do that. * Saving Money - The cost of reglazing a bathtub is far more affordable than the cost of replacing the tub completely. * Shorter Project - Not to mention you have to spend time to find the new tub, which may require several trips to different stores. Reglazing a bathtub is an option worthwhile considering. * Beautiful Appearance - Of course one of the biggest advantages of reglazing a bathtub is the results!
Please note our new phone number above
More Refinishing Services
Bathtub Makeover Wizards
Gainesville
968 Dawsonville Hwy, Gainesville, GA 30501
South Fulton, Smyrna, Stonecrest, Brookhaven, Dunwoody, Peachtree Corners, Gainesville, Newnan, Milton, Rome, Tucker, East Point, Douglasville, Kennesaw, Dalton, Hinesville, Woodstock, Statesboro, LaGrange
30501, 30504, 30507, 30506, 30566, 30503